Course description
This course is for those that wish to become a Coaching Assistant in basketball. This course has been developed to provide learners with the confidence to deliver safe, fun and inclusive basketball sessions under the supervision of an independent coach.
At the end of the course, learners will be able to:
Identify the roles and responsibilities of the Coach Assistant
Identify how to create a great participant experience in Basketball
Identify the basic principles of the game
Identify the core skills needed to play the game
Develop ideas on how to deliver safe, fun and relevant games
Have confidence to deliver to small groups
Who is the course for?
Individuals who usually attend this course are:
Aspiring coaches
Parent helpers
Coaches in other sports
Physical activity leaders
Students
It may also be suitable for Teaching Assistants or Teachers along with ex-players who have no coaching experience. Teaching Assistants and Teachers may wish to access the Introduction to Teaching Basketball Primary or Secondary when these are available.
What's the value of this course?
This course is ideal for learners who are seeking voluntary or paid roles as an assistant basketball coach.
The knowledge and skills gained on this course can be used by coaches who coach in a range of environments (i.e. community, in curriculum and out of curriculum, further and higher education, leisure)
Learner eligibility
Learners must:
Be at least 14 years of age
Be able to communicate effectively in English (this includes listening, speaking, reading and writing).
It is recommended that learners have access to a mentor to support their development as a Coach Assistant. It is advised that the mentor is a recognised independent coach or qualified teacher.
To access the content online, learners will be required to:
Have access to a laptop, desktop or tablet
Have good internet access
Have access to an environment with limited distractions, conductive to learning
If you have any additional learning needs, please let us know when registering, so we can support you.
Format / duration
The course has an accessible learning format consisting of:
E-learning (approximately 3 hours)
Virtual classroom (2 hours)
Face to face learning (4 hours)
The usual format of the course is as follows: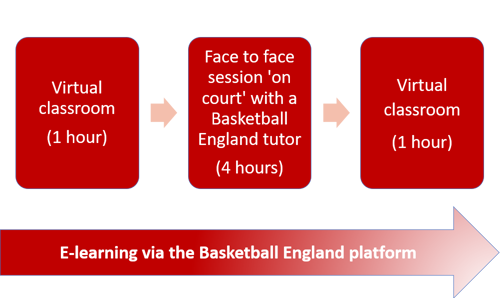 Learners will be required to complete all elements in order to receive their certificate. Learners are usually given 2 weeks from the final contact day with the course tutor to complete their e-learning. Additional time can be requested under mitigating / special circumstances.
Please view the options courses at bottom of the page to understand availability and format.
Progression opportunities
This course can lead to further learning or training in the area of coaching basketball and/or other sport specific courses.
Register Interest
This process is available to determine demand. Courses will be organised if demand exists so we would strongly recommend that you register your interest.
Your payment details are not required. You will be asked to complete your 'booking' details but this will simply be to register your interest and not book onto a course.
Basketball England Member Discount
If you're a Basketball England Licenced Member, you will have access to a permanent discount code for 10% off courses as part of your member benefits package. Simply add your discount code when entering your booking details. You can access your discount code by logging into the Basketball England Membership Portal and going to the benefits section. If you can't find this or are still unsure, please contact support@basketballengland.co.uk.
If you're a Basketball England Free Member, you may have received a special offer with a discount code for 10% off courses for a limited time only. Simply add your discount code when entering your booking details. These are issued in the Member Newsletters.
If you're not a Basketball England Member, you can purchase a licence now to access your 10% off discount code or sign up for FREE and keep an eye out for special offers on courses. Course discounts are just one of the benefits members receive, so click here to join Basketball England today.
Course Fees
The cost of the course is £99 per person for Basketball England Licenced Members, or £109 per person for non-members.
Would you like further information?
Please refer to the FAQs document on the left hand side of the page or email us at education@sportstructures.com
The course can also be delivered to specific groups such as universities, colleges etc. Please visit our course organiser page for further information.
Forthcoming courses
Birmingham : Virtual classroom sessions: Monday 12th February 7:30-8:30pm & Monday 19th February 7:30-8:30pm Practical session: Sunday 18th February 11-3pm at Doug Ellis Sports Centre. Perry Barr, Birmingham B42 2TP
Manchester: Virtual classroom sessions TBC. Practical session Sunday 18th February 11-3pm at Parrington Sports Village, Manchester, M31 4ES
Cambridge: Virtual classroom sessions TBC. Practical session Sunday 3rd March 10-2pm at St Beds School, Cambridge CB1 3TD 
Bristol: Virtual classroom sessions TBC. Practical session Sunday 10th March 12-4pm at Winterstoke Academy, Weston-super-Mare BS24 8EE
Nottingham: Virtual Classroom sessions TBC. Practical session Sunday 31st March 12-4pm at Nottingham Wildcats Arena, 45 Greenwood Rd, Thorneywood, Nottingham NG3 7FJ
Sheffield: Virtual Classroom sessions TBC. Practical session Sunday 31st March 11-3pm at Concord Sports Centre, Shiregreen Ln, Sheffield S5 6AE