We are a multi-award-winning organisation, providing high-quality, cost-effective consultancy, management, and education services to sports organisations worldwide. We strive to provide solutions that add value and drive positive change, reflecting the diverse needs of sport and physical activity, underpinned by our strong approach to training and development since our founding by Simon Kirkland in 2002.

Our vision is:
Transform sport and physical activity through empowering and inspiring people.
Achieved through:
Our delivery of high-quality products and services
The development of innovative solutions that drive change and maximise the impact
Providing accessible learning and development opportunities

Our mission is to:
Provide solutions that add value and drive positive change, reflecting the diverse needs of sport and physical activity.
Shaped to drive the work that we do, our values of Passion, Integrity, Excellence and Togetherness were derived from Simon's dedication to providing services that suit the timescales of consultants while delivering high-quality services that present value and unrivalled standards of excellence. As a whole staff team, we review these values regularly to ensure they continue to define who we are as a company and the actions we work we strive to achieve.
Our Founding principles set by Simon in 2002 are still true today: As an organisation, our cultural starting point was to make Sport for development work sustainably, and commercially viable but with a strong social investment in communities and people based on the following principles:
Value for money
Consultancy based on expertise
Providing consultancy that gave solutions not just feeding back on what was already known
Disrupting the sector to benefit of people in disadvantaged positions
Providing a culture that enabled people to nurture their skills and not be discriminated against because of their gender or background
Working remotely and being streamlined in operational delivery through minimal central costs
working with those who have fewer resources
We are proud of what we have achieved and more importantly how we have achieved this.
Our strategic themes both reflect our cultural values and where our expertise lies. If in doubt speak to our people or partners.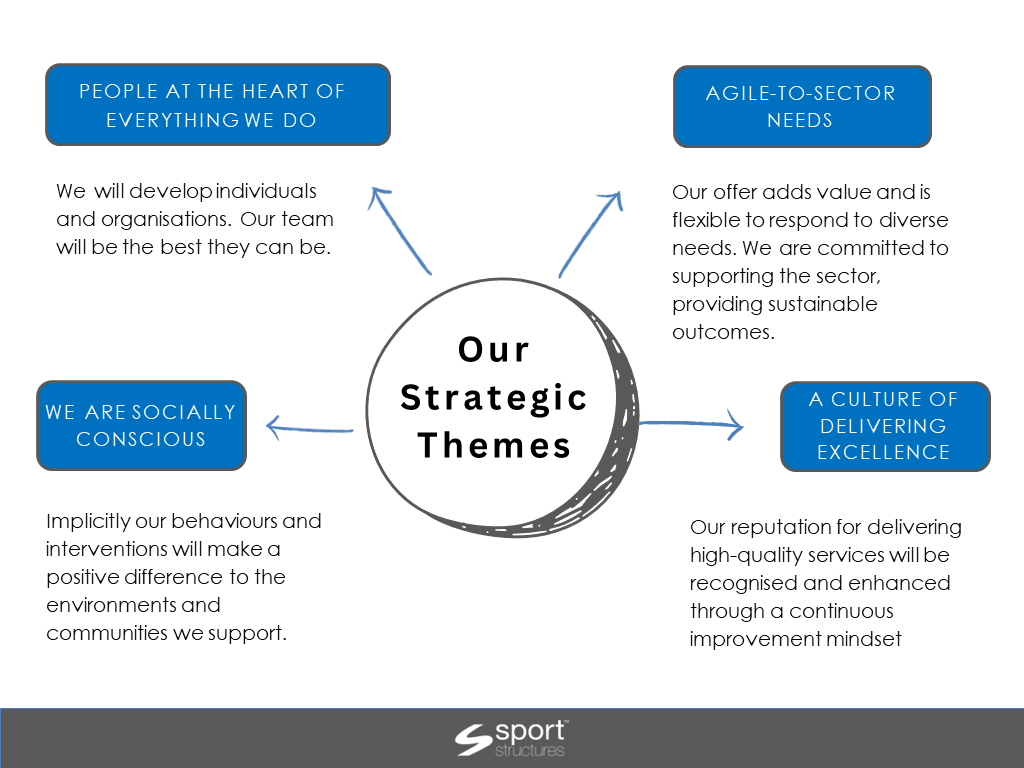 Our Core Values Passion: Inspired by our mission, we are driven to make a difference. Integrity: We commit and hold ourselves accountable to the highest standards of ethics. Excellence: We strive for high quality by challenging, reflecting, learning and improving. Togetherness: We use the power of collective working to share, empower, educate and innovate.