In recognition of the partnership between Sport Structures and Sheffield Hallam University, company directors Simon Kirkland and Katherine Percival were invited to join the podium party for this year's Academy of Sport & Physical Activity graduation ceremony.
Sport Structures have worked closely with the university since the company's beginnings in 2002, providing vital industry placements and recruiting a number of graduates, including current Managing Director Katherine in 2007 (#thatsalongtimeago!).
Simon and Katherine were excited to join the podium party at Ponds Forge International Sports Centre, an appropriate venue for the Sports Management students and lecturers in attendance given its Olympic-sized swimming pool and basketball venue.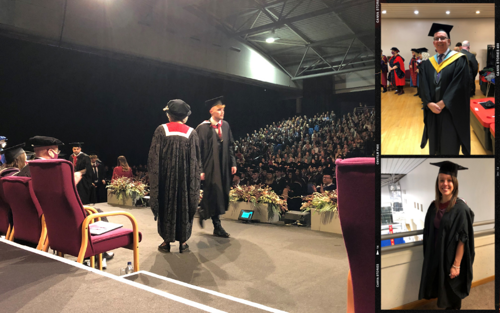 Left: Sheffield Hallam graduation in full swing. Right: Simon and Katherine don their graduation gowns.​
As graduates from the Class of 2020 and 2021 took to the stage and doffed their caps, the Sports Structures directors were delighted to celebrate the achievements of graduates and reunite with former colleagues and partners at the event.
Reflecting on the day of ceremony and celebration, Sport Structures Executive Chair Simon said: "It was a real honour to be invited and a pleasure to catch up with old friends. We have built a fantastic partnership with Sheffield Hallam and we look forward to strengthening it in future work."
Katherine added: "Sheffield Hallam will always have a special place in my heart. It's been great today to celebrate the academic success but also the resilience of the students, given the last 18 months. I hope the students can look forward with confidence to a bright future."