Considered the UK's largest conference focussed on equality, diversity and inclusion (ED&I) in sport, the Include Summit took place in Birmingham last month with more than 50 speakers from across the sport and physical activity sector.
Having explored the importance of ED&I in the industry in February, we caught up with Senior Consultant Richard Dando to hear his reflections on two days of talks, workshops and interactive sessions.
"On the whole it was a great event, and I certainly learnt a lot. I would like to say well done and thanks to the Include team for having the vision to put on the Summit to create an opportunity to listen and learn," Richard said.
"It was a bringing-together of people making a real difference with ED&I in sport, and a way of challenging our thoughts and ideas."
"They covered a diverse range of topics throughout the two days, with the quality speakers sharing their lived experience, learning and impact on making sport and physical activity more equal, diverse and inclusive."
The founders of the Include Summit aligned themselves closely with the vision from the 2022 Commonwealth Games around getting a million children from underprivileged backgrounds into sport and physical activity.
Richard was pleased to see how much attendees bought into that vision and engaged during the summit, and he looked ahead to taking it further than an exchange of ideas and learning.
"I think that's part of the challenge around these events," he added.

"You know the people there are already passionate about this area of work and it has huge value in opening up the conversation to different audiences, but how does something like that reach the policy-makers and the decision-makers?
"There was some challenge back around how there were a lot of ED&I leads from organisations there, but where were the chief executives and the decision-makers?
"I think it's certainly a great networking opportunity, we caught up with the likes of Sported and the Ann Craft Trust, who look after adult safeguarding. There were organisations such as Badu Sports who have done some fantastic youth leadership work in inner city areas, which has been really powerful."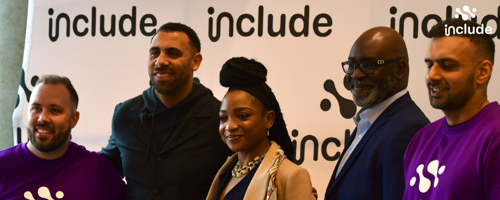 In addition to bringing together leading organisations in the field, the conference provided a platform for diverse voices to drive new ideas and innovation.
With the likes of Denise Lewis and Judy Murray in attendance, Richard was excited to see influential figures propelling discussion in equality, diversity, and inclusion.

"The beauty of it was that they also brought in young people," he said.

"Having championed youth leadership in my previous roles, that is really powerful for me because that is where you see the impact of the programs and initiatives. It was great to hear from the experts in the field, but also from the beneficiaries of those programs as well.
"One standout speaker was Geoff Thompson MBE, who is the founder and chair of Youth Charter. Describing young people as 'good troublemakers' Geoff spoke of the importance in engaging young people in the ED&I conversation to disrupt and challenge thinking, to drive change and make sport more inclusive for all.
"The Esports session was also definitely an eye opener because it gave me a totally different perspective around Esports from an ED&I perspective. My perception was that it was preventing people being active and encouraging sedentary lifestyles, while in reality it provides an inclusive opportunity for people to connect, participate, learn new skills and gain qualifications while having fun and enjoyment as part of a balanced lifestyle.
"The Summit also explored the importance of allyship and challenged me to be a better active ally where I continue to be curious, listen, learn, ask questions and help influence change."

Events like the Include Summit play a crucial role in driving the conversation, and Richard is eager to see the progress that comes from that, whether that's in his own consultancy work or externally in the sector.
"Something like a one-off event really galvanises people, it inspires, but then how does that turn into action and how do people take personal responsibility for that?
"There is always an opportunity to be curious, to be open to learning and new things.
"When I'm working on projects and we talk around inclusive cultures, attending events like the Include Summit gives you an insight into what other organisations have tried and you come away with a host of new ideas.
"We've all got our own biases and our own perceptions, and it's easy to think through your own lens. It is so important to be curious, but also get an awareness of which organisations and people are out there to help you develop.
"I'm listening to new ideas, and lived experience was a key theme last week. If you want to make a difference in certain communities or certain protected characteristics, it's about getting an understanding of that lived experience."
Equality, diversity, and inclusion play a crucial role in Sport Structures' vision and mission, but the Include Summit reaffirmed their overarching significance in sport and physical activity.
Richard concluded: "Whether it's being active, or it's the impact on mental health, the sector does need to move with the times, and we need to take that learning to influence positive change."