Course description
The 1st4sport Level 2 Certificate in Coaching (Korfball) focuses on the skills and competences required to be able to plan, deliver and review a series of linked and progressive korfball coaching sessions, either working independently or as part of a coaching team.
The course has been designed to provide maximum accessibility and flexibility to both new and existing coaches wishing to update or gain access to a formalised level 2 coaching qualification.
Who is the course for?
The qualification is designed for those who wish to become involved in korfball as an independent coach and wish to take responsibility for the ongoing development of participants. 
What's the value of this course?
This qualification could lead to paid or voluntary roles in coaching Korfball. It is recognised by England Korfball as the minimum standard qualification for operating as an independent Korfball coach. 
Please click here to see a learner case study.
This qualification is recognised as the industry standard level 2 korfball qualification for coaches by UK Coaching and England Korfball. It is aligned to the Chartered Institute for the Management of Sport and Physical Activity (CIMSPA) professional standard for Coach.
Eligibility
Prior to registration learners are required to:
• be accurately identified
• be at least 17 years of age (but must be 18 years to coach independently)
• be able to communicate effectively in English (this includes listening, speaking,
reading and writing).
• have successfully completed one of the following courses*;
- BKA Level 1 Award or above
- IKF Level 1 Award or above
- England Korfball Teaching Children Korfball course
- England Korfball Level 1 Award or above
It is strongly recommended that learners have a minimum of 12 months experience in coaching.
*If learners do not hold one of the above awards but have 12 months coaching experience and are able to provide evidence of this (through witness testimony), they are eligible to progress straight to the Level 2 Certificate. Evidence will be required after registration.
Please be aware learners have two years from registration to complete.
Format / duration
The course has flexible delivery model and is delivered through a blended learning approach (E-learning, virtual classrooms and face to face delivery) consisting of:
E-learning (Approximately 8 hours)
3 x 2 hour virtual classroom sessions 
Completion of a 1st4Sport e-portfolio
2 x days of face to face practical delivery to learn, refresh and upskill your technical and tactical knowledge of Korfball
Completion of 4 linked and progressive coaching sessions in your own environment (self directed)
Assessment in your own coaching environment or an opportunity for video assessment
Please see below diagram for further information.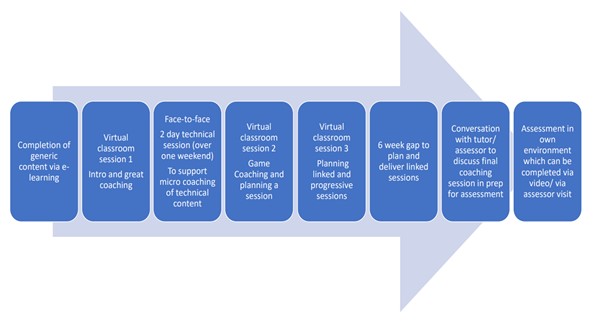 Opportunities for existing coaches to access the 1st4Sport Level 2 Certificate
There is an opportunity for existing qualified BKA Level 2 Coaches or Coaches with several years' coaching experience and who remain unqualified* to gain the full 1st4Sport Level 2 Coaching Certificate. This is a simple process which is outlined in the table below:
Name of Course

1st4Sport Level 2 Certificate in Coaching Korfball – Full

1st4Sport Level 2 Certificate in Coaching Korfball – Bridging

Flexible Payment Plan Option**

Yes

Yes

Virtual classroom 1

Yes

Yes

Practical delivery x 8 Hours

Yes

(Optional)

Practical delivery x 8 Hours

Yes

(Optional)

Virtual classroom 2

Yes

No

Virtual classroom 3

Yes

(Optional)

Completion of E-Learning and portfolio

Yes

 

Yes

Completion of linked progressive sessions

Yes x4

Yes (x4)

In-person assessment in your own Environment

Yes

(Optional at additional cost £50)

Virtual Assessment

(Optional)

Yes

Portfolio of evidence

No

Yes
Assessment (if applicable)
Learners will be required to:
Complete a series of assessed tasks in their 1st4Sport learner portfolio
Plan, deliver and evaluate 4 linked and progressive sessions in their own environment
Plan, deliver and evaluate 1 x 40 minute coaching session in Korfball, observed by an assessor (virtual or in situ)
Progression opportunities
Learners may be interested in attending the International Korfball Federation level 3 coaching course. In addition, learners may wish to progress onto the 1st4sport Level 3 Award in the Principles for Coaching Sport to develop in the learner the necessary skills, knowledge and experience to deliver an annual coaching programme to either adults or young people.
Cost
This usually falls between £295 and £345 for the Level 2 Certificate & £199 for the bridging course.
Early bird offers may apply.
Payment 
Should you wish to pay by invoice, please enter the word INVOICE at the checkout. Please be aware we are only able to invoice organisations, not individuals.
Flexible payment plans are available for this course to support accessibility. Please download the document on the left hand side of this page.
Course dates
Future courses are currently being scoped.
If you wish to attend any future courses, please select which course you will be taking (1st4Sport Level 2 Certificate in Coaching Korfball – Full or Bridging)
Register Interest
This process is available to determine demand. Courses will be organised if demand exists so we would strongly recommend that you register your interest.
Your payment details are not required. You will be asked to complete your 'booking' details but this will simply be to register your interest and not book onto a course.
Would you like further information?
Please email us at education@sportstructures.com