We are thrilled to announce that our Information, Advice and Guidance services have been accredited to the matrix Standard, demonstrating the high quality they provide to our community of coaches, apprentices and volunteers.
The matrix Standard is the international quality standard for organisations that deliver information, advice and/or
guidance (IAG), and we're delighted to have met the standard following a robust assessment including interviews with our staff, learners, and partners.​
Commenting on the award, Sport Structures Senior Operations and Compliance Manager Ross Szabo said: "I'm delighted we've achieved the matrix Standard which shows our commitment to providing excellent IAG services to all our potential and current learners.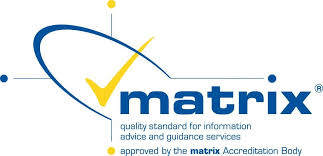 "It was identified that we have a strong reputation in our industry which we believe reflects the integrity and quality in which we work. It was also noted that we build strong relationships which is great because to achieve our vision of transforming sport and physical activity through empowering and inspiring people, we have to work collaboratively with like-minded organisations and people.
"I'd like to thank all our learners and partners that work with us to make our programmes a success and we look forward to strengthening those relationships in the future."
Roger Chapman, Head of the matrix Service for The Growth Company said: "This is a fantastic achievement for Sport Structures and I would like to congratulate the team on their success.
"We believe that at the heart of high-quality advice and support services are strong leadership, excellent service and a focus on continuous improvement, all underpinned by effective use of the resources available. The matrix Standard is designed to benchmark organisations against best practice in these areas.
"With their accreditation success, Sport Structures is working to provide the best possible support to their clients."
For more information about the matrix Standard please visit www.matrixStandard.com.