Basketball referee instructors from across Europe met in Thessaloniki, Greece this month for the 13th delivery of the FIBA Referee Instructors Programme (FRIP).
The intense weekend between April 20th and 24th brought together National Federation Referee Instructors, learning to deliver high-quality referee training back in their home nations.
Sport Structures Executive Director Simon Kirkland once again joined FRIP, leading two days of intense sessions delivering teaching and learning, alongside two days of up-skilling the instructors' basketball and refereeing knowledge.
Complemented by blended face-to-face sessions, FRIP aims to stitch together these three elements to enable referee instructors to deliver high-quality, interactive learning to new and emerging referees all over the world.
Returning from a training weekend that welcomed 21 learners from 18 different countries, Simon praised the enthusiasm of this year's FRIP cohort.
He said: "It's great to get back to face-to-face teaching again and the learners from across Europe have positively engaged in learning and challenging themselves.
"The knowledge elements of the weekend are also critical for referees to gain a greater understanding of their key learning points in instructing."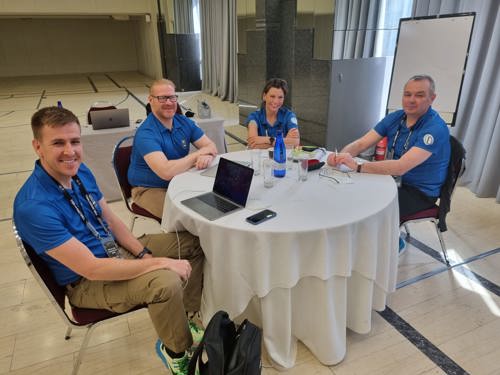 The other tutors in attendance for this year's FRIP included Carl Jungebrand, the head of FIBA refereeing, Patrick Hunt, FIBA head of Technical Committee, as well as fellow Australians Peter Lonergan, Director of High Performance Coaching and Talent Identification at Basketball Australia and FIBA Oceania Technical Lead Albert Joseph.