Course description
This is the basic level of coaching course, which gives outline knowledge of coaching American Football, enables the holder to introduce American Football and to assist a coach award holder (or above). The holder is covered by the association's insurance for working unsupervised. However, it is recommended newly qualified coaches should work under the supervision of a experienced coach or minimum of a level 2 coach award holder. Learners can expect to cover the following:
Roles and responsibilities of the coach
Duty of care
Inclusive coaching practice 
Communication 
Coaching Process 
Health & Safety & Risk Assessments
Emergency Action Plan 
Core fundamentals of Blocking and Tackling or Flag Fundamentals
Who is the course for?
Individuals who usually attend this course are parents of performers, players or ex-players, interested adults, teachers, youth workers, , students etc
What's the value of this course?
This course is ideal for learners who are seeking to move into Assistant Coaching positions and for those seeking to develop into positional coaching positions.
Learner eligibility
Learners must:
Be at least 16 years of age (

16 and 17 years olds are not covered by the association's insurance for working unsupervised and must work under the supervision of a minimum of a level 2 coach award holder)

Be able to communicate effectively in English (this includes listening, speaking, reading and writing).
Have access to a laptop/tablet, good WiFi and microphone to participate in virtual classroom sessions. Any special learning requirements must be made clear at the registration process.
Complete all prerequisites for the course

USA Football Youth Coach Certification - https://usafootball.com/development-training/certification/
Safeguarding – If you do not have a valid certificate, we offer safeguarding courses which can be found here. Valid Safeguarding certificates from other providers will also be accepted. This will need to be completed prior to certification of the course, not registration.
Assessment
To achieve the British American Football Coaches Association level 1 award, learners are required to have assessed evidence of:
Completing all prerequisites for the course
Completing written and online tasks 
Completing an online test associated with the content covered on course
The final day of the course involves assessment of coaching practice for 1 progressive coaching session, along with a core fundamentals session
Format / duration
The course has flexible delivery model. In order to meet qualification requirements, we deliver this qualification through face to face tutored sessions or blended delivery (online and face to face).
Our open courses below are delivered through a blended delivery approach. This consists of:
Online learning via our e-learning platform ahead of the virtual classroom sessions 
Online Assessment Questions
1 x 2-hour virtual classroom sessions with an experienced tutor
1/2 assessment day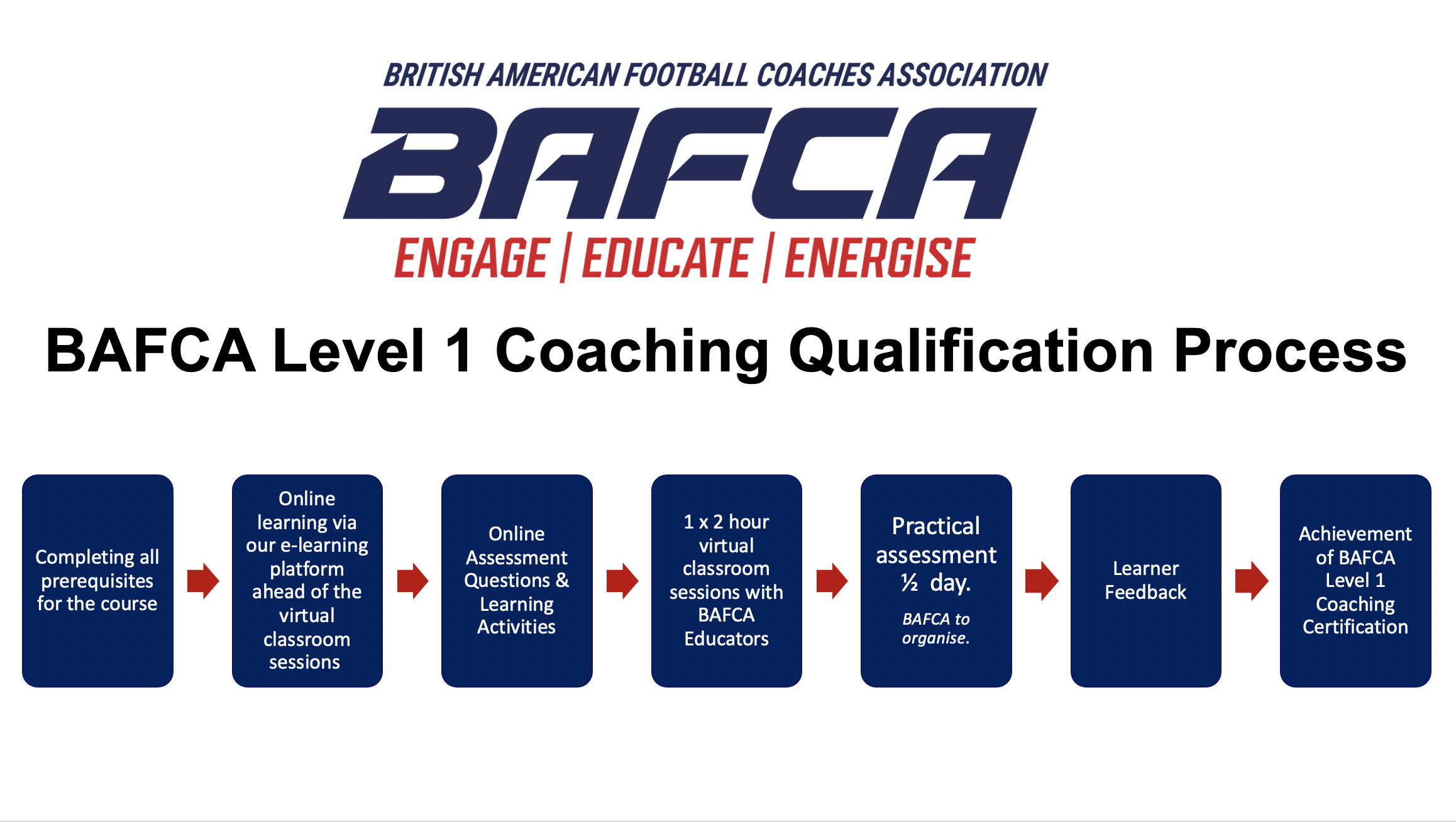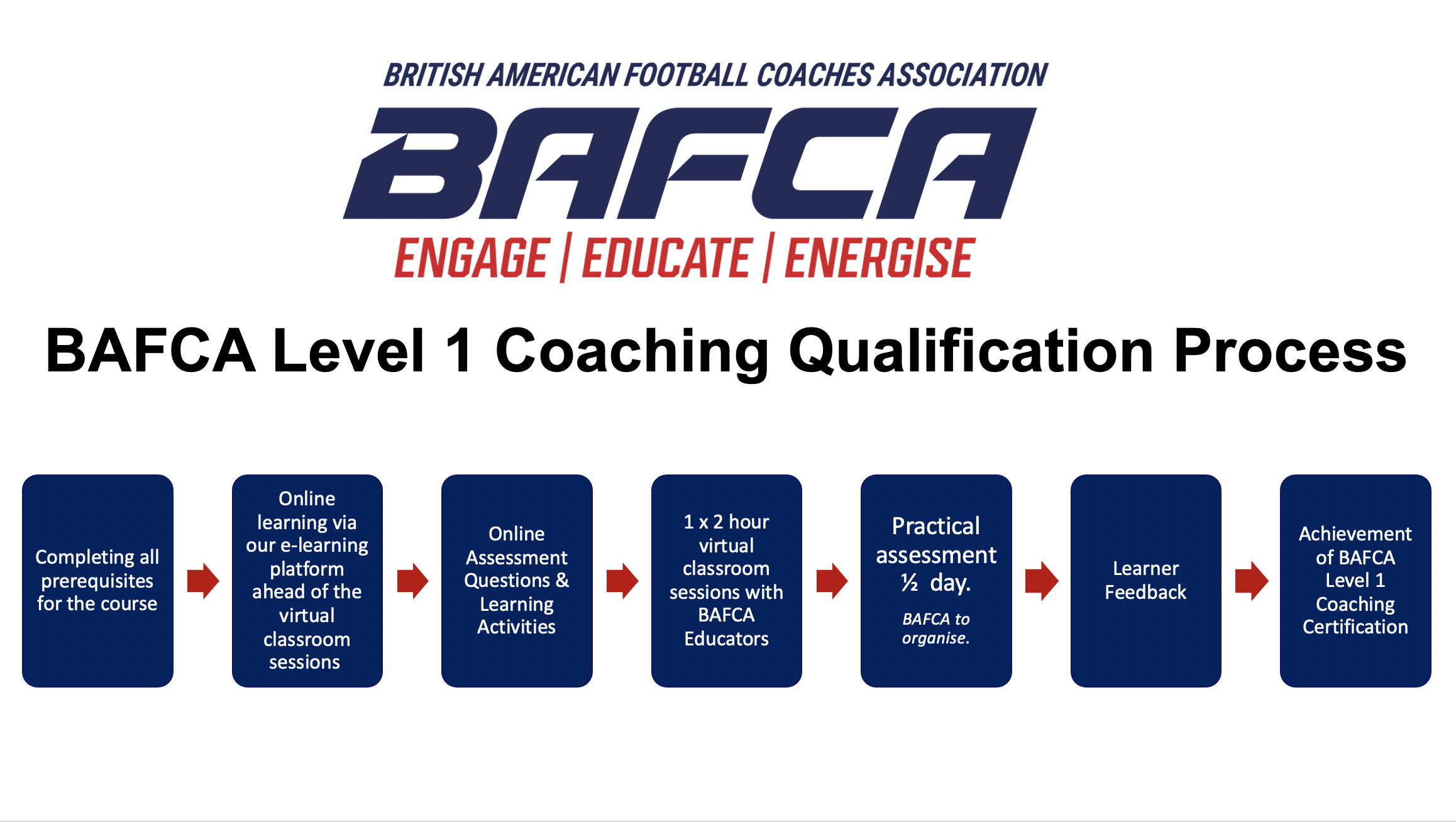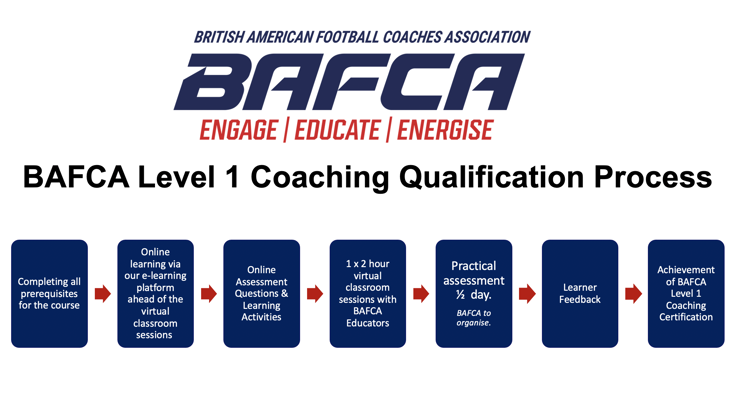 Progression opportunities
This course can lead to further learning, CPD or training in the area of coaching American Football and/or the progression onto the British American Football Coaches Association Level 2 certification.
Course fees
The cost of the course is £50 per person.
Registration of interest
This process is available to determine demand. Further courses will be organised if demand exists so we would strongly recommend that you register your interest. 
The registration of interest process is free. Your payment details are not required. You will be asked to complete your 'booking' details, but this will simply be to register your interest and not book onto a course.
Forthcoming courses
Course 7: Online learning to be completed between 21st June - 4th July. Virtual classroom session will take place on Wednesday 30th June (7-9pm). Practical day TBC.
*If no courses are available, please register your interest and we will email you when new dates are released*
Would you like further information?
Please email us at education@sportstructures.com or education@bafca.co.uk
The course can also be delivered face to face, to specific groups such as universities, coaching providers etc.