Course description
The Archery GB Instructor Award is the industry's leading training course for archery. This course is designed to prepare learners to deliver fun and safe sessions for beginners.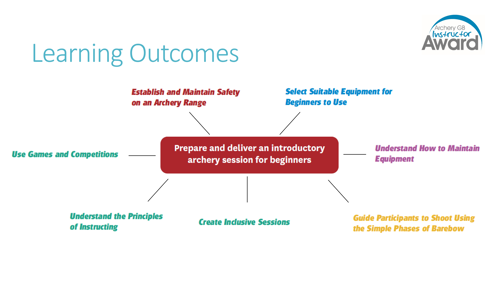 Who is the course for?
The course is designed for learners with little or no prior experience of archery.
What's the value of this course?
"Totally loved the course, learned loads had a great weekend, the tutor was brilliant"
Learner eligibility
Learners must:
Be at least 17 years of age
Be able to communicate effectively in English (this includes listening, speaking, reading and writing).
Assessment (if applicable)
Learners are assessed via a multiple question test paper and also practically for a duration of around 30 minutes. Assessment will focus on the delivery of an archery session.
Format / duration
The course is delivered over two days, 9-6pm.
Progression opportunities
Learners may be interested in attending a specific archery coaching qualification in the future.
Payment
Should you wish to pay by invoice, please enter the word INVOICE at the checkout. Please be aware we are only able to invoice organisations, not individuals.
Would you like further information?
Please email us at education@sportstructures.com
*Covid-19 Update*
Given the latest Government advice, it comes as no surprise that we have postponed all Archery GB Instructor courses until further notice. The health and safety of our learners and workforce are our priority. We encourage you to register your interest so we can let you know when a course becomes available.